Get ready to light up your night with Glow Bikes HHI! Experience Hilton Head Island in a whole new way on our unique and interactive bike tour, now touring and open for bookings!Join us for an unforgettable 35-minute journey through the island's most iconic landmarks on a glowing bike. Perfect for individuals, couples, families, groups, birthdays, anniversaries, and special occasions. Along the way, we'll make stops at three different landmarks for photos, music, and dancing, making sure you create unforgettable memories with this rare and exciting island experience.
Our tours are available at a range of convenient evening times, with a range of special tours like
Sunset Tours

,

Full Moon Tours

,

Eclipse Tours

(limited availability! schedule in advance), and

Private Beach Rides

(custom route). Check availability by clicking the button below, or contact us at

(843) 338-0154

to speak with a tour guide.
---
Bicycles for Younger Riders
We want to make sure that our glow in the dark bike tours are accessible to everyone, regardless of age or size. That's why we offer bicycles for small children, specifically for riders under 12 years old.For small children, we have two different bike options:1. The Co-pilot Bike, which is ideal for children aged 4-9 years old, with an inseam range between 16.5" - 26" and a max weight limit of 45lbs.

2. The Croozer Bike, which is a two-seater bike with padding and harnesses for small passengers, and a maximum weight limit of 80 pounds (two 40-pound children).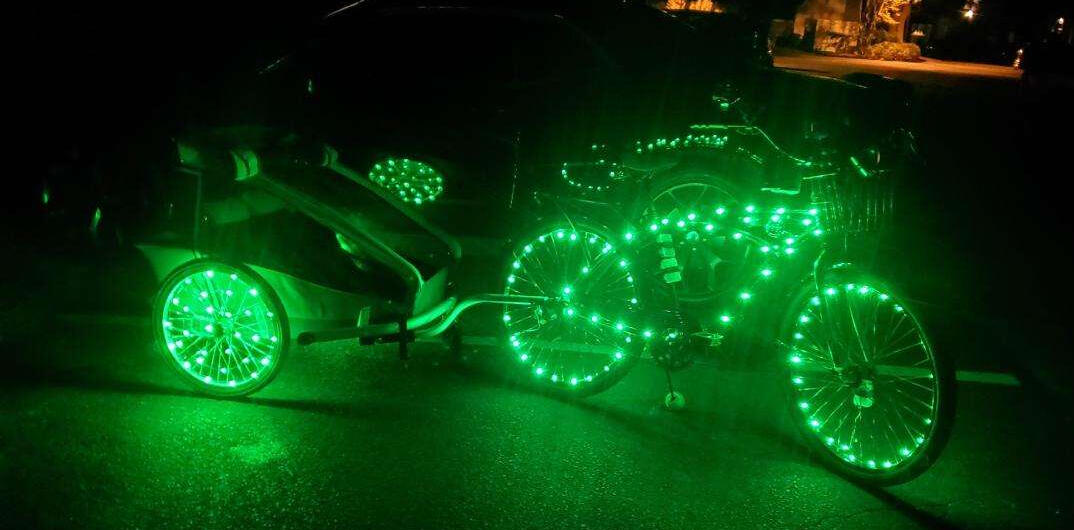 So, if you have a child under 12 years old who wants to join in the fun, we've got you covered with our smaller bicycles. Don't let age or size be a barrier to experiencing the excitement of our glow in the dark bike tours!
---
Safety Guidelines
Your safety is our top priority at Glow Bikes HHI. Please consider the following precautions before your tour:

Helmets are recommended for all participants.

We provide sanitized facemasks and face shields.

Listen to your guide's instructions, and maintain a distance of at least 6 feet between riders.

Ride in a single file on the right-hand side of the path, and use your bell or horn to warn pedestrians and other bikers of your approach.

Wear brightly colored clothing and closed-toe shoes (no high heels).
MORE INFO FOR THE TOUR
Need a break? Talk to your guide before the tour; public restrooms available en route.

Cancellation policy: up to 24 hours before the event; deposit honored for 6 months if rescheduling.

Inclement weather: tour will be rescheduled.

Running late? Call (843) 338-0154; arriving <10 minutes before start time forfeits tickets with no refunds.

No photos while riding; designated photo locations available.

Liability waivers required for all riders.
Reach Out
LINKS
We can't wait to show you Hilton Head Island in a whole new way on our Glow Bike Tour. Book now to experience the ride of a lifetime!